SENS8 Light Cam FAQ
Get Started
How to set up SENS8 Light Cam?
---
1. Download the SENS8 app from the Apple App Store or Google Play Store. App Store: https://itunes.apple.com/us/app/sens8/id1203146926?l=zh&ls=1&mt=8 Play Store: https://play.google.com/store/apps/details?id=com.rippleinfo.sens8 Then, launch the app to create your account. 2. Register an account in the SENS8 app. Register a SENS8 account to manage one or more SENS8 devices. Use an existing email address as your username, but we recommend creating a unique password for your account. 3. Follow the onscreen instructions within the SENS8 app
Launch the app and sign up.
Enter the home sreen and tap the "Add icon"
Select the device you would like to set up: All-in-One or Light Cam
Enter the setup process and follow the instructions step by step.
Remember to watch the light status on the device during the setup
Please do the following before starting the setup

: i. Move your device next to your router to eliminate signal interference ii. Verify your network is supported: SENS8 only supports 2.4 GHz Wi-Fi iii. Check your network speed iv. Check internet connection v. Split your network into distinct SSIDs if using dual band vi. Try another mobile device or tablet vii. Update your router's firmware
---
What do the lights mean on SENS8 Light Cam?
---
During the setup process make sure to have proper light indications Light Status & Indication for SETUP or UPDATE Wi-Fi.
---
Why can't I set up my SENS8?
---
Setup shouldn't take longer than ten minutes. If setup fails or if it takes longer than ten minutes, there are a number of things that could be interfering with your device. Please refer to the following instructions: 1 Reset and Restart Step 1: Reset your SENS8 by pressing the reset button (at the bottom of the device) for a few seconds until the light turns white. Step2: Turn the power button off and on again. (Keep holding it for 4s to turn off and 2s to turn on) Step3: Reset your router. Step4: Wait for about 3 minutes and try to set up again. 2 Move your device next to your router to eliminate signal interference We recommend moving your SENS8 device as close to the router as possible to eliminate signal interference for the initial update. Some building materials, as well as proximity to other electronics and wireless devices, can affect Wi-Fi performance. 3 Try another mobile device or tablet If you're still having trouble setting up your SENS8, try setting up with another iOS or Android device. If you don't plan to continue using the SENS8 app on this device, make sure to sign out of your account once setup is completed. Note: Before attempting setup again, reset your SENS8 device first. 4 Other troubleshooting tips If you continue to have trouble here are some other things to consider: Verify your network is supported: SENS8 only supports 2.4 GHz Wi-Fi. Check your network speed Check internet connection Split your network into distinct SSIDs if using dual band Update your router's firmware
---
How to share my SENS8?
---
Share access to your device with family, roommates, or anyone you choose. Members have the same access and privileges that you do to monitor and arm/disarm SENS8. Note: The first member to set up SENS8 is the owner of the device. Only the owner can remove other members from a device. To share access to your SENS8: 1. Open the app and tap "Me" icon and tap "Share My SENS8" 2. Enter the e-mail address of the member you want to share:
If the member already has a SENS8 account, the member should log in with the e-mail address you entered, and gets a nofication to accept or rejecet your inviation.
If the member does not have a SENS8 account, you will need to send an invitation e-mail to them from the SENS8 app, which also requires you to enter their e-mail address in step2. The member then will need to download the SENS8 app and register an account with the e-mail address you entered. Once they sign up, the SENS8 devices you share will automatically appear in their account.
---
What do the "Modes" mean in SENS8 app?
---
Arm: SENS8 Light Cam monitors your home and sends you a notification with or without sounding the alarm/turning on its LED light when it detects an abnormal activity. Disarm: The activities are not monitored by SENS8. No notification will be sent to you. Schedule: You can set schedules for Arm and Disarm. Auto-Arm: SENS8 automatically arms or disarms itself based on the location services of your smartphone. If SENS8 believes you are away from home, it will arm itself to protect your home.
---
How to reset SENS8?
---
If you're having difficulty with your SENS8 device, such as issues with network connectivity, try resetting your device by pressing the reset button for several seconds to make the status light turn blinking green, and then release.
---
How to make an emergency call?
---
You can enter any phone number you would like to call under emergency circumstances. It can be your family or friend's phone number or local police's. Providing that a service fee could be charged for police response, please be careful if you set local police's phone number as your emergency number. Set your emergency number Go to "Me"→"Settings"→" Emergency Phone number" and set the number as follows:
Make an emergency call After setting up the phone number, you can see a phone icon when you are watching a live stream and tap the icon you can dial the number instantly
---
How to link to my Dropbox/Google Drive account?
---
In the SENS8, tap "Cloud Storage" on Me page, and follow the instructions onscreen. 1. Go to the "Me" section and tap "Cloud Storage"
2. Select the cloud account you would like to link to and go through the function description, sign-in, and access permission.
---
How to set the LED light on SENS8 Light Cam?
---
To set the light status of your SENS8 Light Cam, just launch the SENS8 App and switch on the light function as below, and select the function you would like to turn on.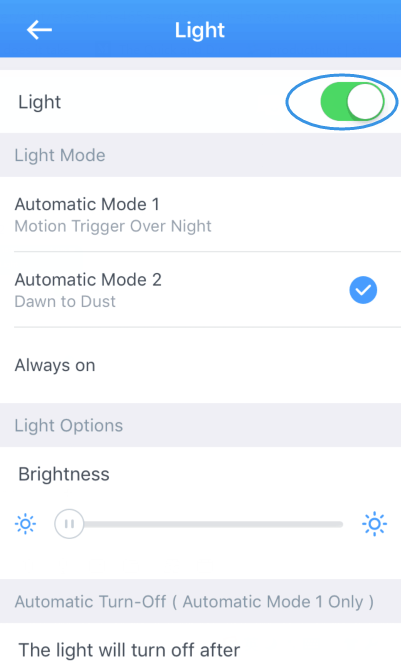 ---
How to install SENS8 Light Cam
---
Note: Once you've added SENS8 Light Cam to your account, unplug it and take it to the spot you've chosen outdoors to install it. Once installation is completed, plug it into the outlet you want to use and wait for the green light to turn on. SENS8 Light Cam will reconnect to your Wi-Fi network automatically. This may take a minute or two.
Step One-Select a location
Avoid direct sunlight
SENS8 Light Cam is designed to operate between-25°C and 45°C. If it gets hotter or cooler, image quality may be affected
Keep it in range of your router
Make sure that you choose a place within range of your network. Thick or insulated walls can greatly reduce the strength of your Wi-Fi signal, even if your router is close by, so you should try streaming video before you mount your camera.
Consider the surroundings
Is a pole, plant or porch light blocking the view? It might throw off exposure or interfere with night vision and lighting. If you start noticing glare, adjust the camera so that the horizon is out of frame.
Place it up high
But not too high. We find that2 to 3 meters above the ground, tilted downwards, is best-close enough to see someone's face and talk to them through the camera. If the power cable is not long enough to reach the indoor power outlet, you can use the provided extended cable to make it longer.
Step Two-Wall Mounting
Before you mount the camera, make sure it can get Wi-Fi in the spot you've picked.
Hold your SENS8 Light Cam where you'd like to mount it and check to make sure it's streaming video to the SENS8 app. If you don't see video, the Wi-Fi may not be strong enough there – you'll need to find a different spot or move your Wi-Fi router.
Mark the holes
Take the hole drilling template included and then tape it to the location you want to mount your camera, so you know where to mount your camera and drill the holes.
Drill the holes
If you want to route the cable through a wall, use a 1/2" bit to drill a hole for the cable connector.
If the wall is made of a material like brick or stone, you may need to use the wall anchors included to hold the screws. Use a 1/16" bit to drill 3 holes through the template and wall for the plastic anchors. Then gently hammer each anchor into the holes.
If you are mounting directly to wood or into a stud, use a 1/16" bit to drill 3 pilot holes for the included screws through the paper and wall.
Install the bracket
Unscrew the nut from the bracket to separate the device and the bracket
Attach the bracket to the template, and align one of the three screws with the small holes on the mounting bracket and tighten it up a bit while keep some space between the wall and the bracket.
Lead the male connector through the hole, then tighten the bracket with 3 screws firmly.
Get the SENS8 Light Cam plugged. Use the live stream in the SENS8 APP to fine-tune your camera's position. Make the camera slightly downwards, so the motion sensor is optimized to detect human-sized objects at up to 26ft
Once you get the right angel, hold the camera to keep its position with one hand and rotate the nut with the other hand to get it fixed.
---
---
Troubleshooting
Why is my SENS8 disconnected?
---
There are a variety of reasons why your SENS8 may not be able to communicate with our servers. Your device could be unplugged, your location may be having a power outage, the camera may not be connected to the internet. In most cases, you can troubleshoot these issues right in your own home.
Verify your network is supported
Check internet connection
Split your network into distinct SSIDs if using dual band
Update your router's firmware
---
Why is my SENS8 video in black and white?
---
SENS8 is equipped with automatic night vision. SENS8 uses an ambient light sensor (ALS) to detect light levels. When there is insufficient light to record clearly, your device will automatically use night vision. All video from your SENS8 devices will be in black and white when night vision is activated. When there is enough ambient light to record clearly in color, your device will automatically stop using night vision.
---
Why the video is red (pink) tinted? How to fix it?
---
No worries about the red (pink) tinted picture. This is caused by the PIR sensor when SENS8 was initially set up. It should adjust itself later or you can manually adjust it by following the instructions below. You can fix it by covering the light sensor (shown as below) of the device with your hand for a few seconds till the video turns into night vision (black and white picture), then check it again.
---
Why don't I receive notifications from SENS8?
---
Make sure notifications are enabled Make sure you have a good mobile signal and your device is not in 'do not disturb' or 'airplane mode.' Both iOS and Android have these settings that can block alerts and notifications from being received. Double-check that you've allowed SENS8 to send you notifications. In your mobile device's settings, verify that you've enabled this feature and that the specific notification style for the SENS8 app meets your preferences. Enable iOS notifications
Scroll down and tap the SENS8 app icon.
Make sure the Allow Notifications toggle is green.
Make sure the Show on Lock Screen toggle is green.
Make sure Alert Style When Unlocked is set to Banners or Alerts.
Enable Android notifications
Navigate to the Settings app.
Select Show notifications.

​​​​​​​
If you still cannot receive any notifications after the double-check, please log out and log into the app again to make the notification work properly. Or you can contact us via support@mysens8 to check the notification status for you.
---
---
Before You Buy
How does SENS8 record or store the video footage once the local memory hits the max storage?
---
SENS8 only records video when unusual activity is detected. The video is stored in a built-in 8G memory which can save about 800 1080p HD video clips. When the local memory gets full, the oldest videos will be deleted to make room for newly recorded ones automatically. Also, if you link your SENS8 to your Dropbox/Google Drive account, the recorded videos will be uploaded simultaneously to your Dropbox/Google Drive which is absolutely free.
---
Is the SENS8 compatible with Google assistant/home?
---
Google Home integration is currently unavailable with SENS8 at this time, but the good news is that we're working on smart home integrations of SENS8, and Google Home is definitely in the roadmap.
---
How far can the camera accurately see?
---
In daylight, SENS8 can see about as far as you can, and its 140-degree field of vision is almost as wide as the human eye. It also has Night Vision to be able to see in the dark. The camera of SENS8 stays on all the time, so you can have access to live stream any time as long as it is connected to a Wi-Fi network.
---
Can I add my own SD card for more local memory?
---
We have replaced SD card with eMMC memory, which is a local storage solution being faster, more secure. It is a built-in memory chip, so no one can take it from SENS8 device like SD card might be. There is no more SD card slot in the device. If you would like to have more memory for video storage, it is recommended that you can upload them to your Dropbox/Google Drive, and it is free from any subscription fee.
---
Can I add another camera to my SENS8 account?
---
After downloading the app, you can add SENS8 devices (All-in-One and Light Cam) as many as you want in one account. You can place them in different places, like bedroom, kitchen, balcony, using one account to view them and control them easily. However, it requires sufficient bandwidth to keep all cameras connected. Each camera will occupy 0.5Mbps to 1Mbps upload bandwidth.
---
---